The Fiat 500 has iconic status as a practical and inexpensive small city vehicle. The reincarnated 1957 model burst into the scene when its Italian manufacturer was struggling to stay afloat.
And with the same essence and charm of the original classic, the 500 captured the hearts of many and managed to put the firm back on track. But why has this 2007 Fiat 500 version managed to stay so popular?
Design
Frank Stephenson's design of the 500 is based on Roberto Giolito's Fiat Trepiuno concept. Stephenson added a couple of styling elements credited for making the city car popular. Stephenson's resume includes the revival of BMW's beloved classic, the Mini Cooper.
Practicality, Technology, and Performance
Many people love the 500, not only for its perfect blending of the classic and the modern but also because it easily fits anywhere, especially the tiny parking spaces. It is also quite comfy for a small vehicle, and the incorporated technology is on point.
The vehicle's standard infotainment system comes easy to operate and is equipped with six speakers, a voice command, a five-inch touchscreen, and USB ports.
The charming Fiat 500 boasts a MultiAir technology thruster for fuel efficiency and reduced emissions. This innovative technology increases the vehicle's dynamic response, and you may not tell you are in a small city car.
Performance
The Abarth model has more oomph, with sporty enhancements and a powerful engine. Abarth is for people looking for additional athleticism and power, thanks to its performance-oriented suspensions and a more powerful turbo-four engine.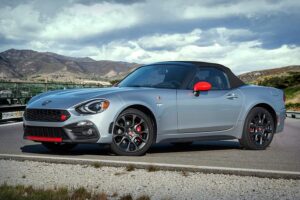 The latest 500 has several advanced safety features that include the rear parking sensors and the rearview camera.
While Honda fit may seem better than the 500 in several ways, such as adult-friendly seating, Fiat has a quieter and more potent engine. Fiat 500 continues to capture the hearts of many, thanks to its cute puppy design, fuel economy and practicality.